---
Vít Ondráček / Marcin Zawicki / painting
/ 21.08.2015 - 10.10.2015
The City Gallery in Wrocław repeatedly executed exhibitions featured pair of artists that could be treated as two individual events. This strategy allowed artists for showing their art in an individual space and consequently to make it fully hearable as it wasn't disrupted by some "extraneous" elements. On the other hand though there have always been a mutual confrontation, comparison, inspiration between displayed artworks. The same tendency is clearly visible in the new exhibition titled simply "Vít Ondráček / Marcin Zawicki" which juxtaposed two artists differ in terms of age, origin, artistic statement and attitude towards themselves and world in general. What makes them similar is in turn a paintbrush and painting understood here as a medium that help them introduced a viewer to their own artistic worlds.

http://www.youtube.com/embed/Si5FCZwnu0Y

Vít Ondráček (born in 1959) – devoted himself mostly to painting, print, drawing and illustration. He is a stubborn individualist not necessarily caring about new tendencies and art market requests. He cooperates and is closly related with lots of poets and prosaists, such as: Vit Sliva, Radek Maly, Jaromir Typlt and the late Ludvik Kundera – an excellent Chech surrealist from Ra Group. He believes that brushstrokes express his energy the most, hence he devoted himself to art immensely almost on death. While creating the series of Dactylograms Ondráček used only his own hands and fingers what caused a serious poisoning which he barely survived. Despite this all he still uses a traditional paints. The display will be an occasion to show one of his most poetic, and seemingly lacked of colour cycle "The Black Rainbow". It is however only an impression since Ondráček obtaines the color indirectly by combination of originally colourless structures he achieves the effect of a color intensity, like it would be a play of light and shadow in a black and white movie. It is somehow an illusion of color. What he offers in his paintings is the energy, rhythm and its lack, regularity and deflection – all of which create a scheme of a movement.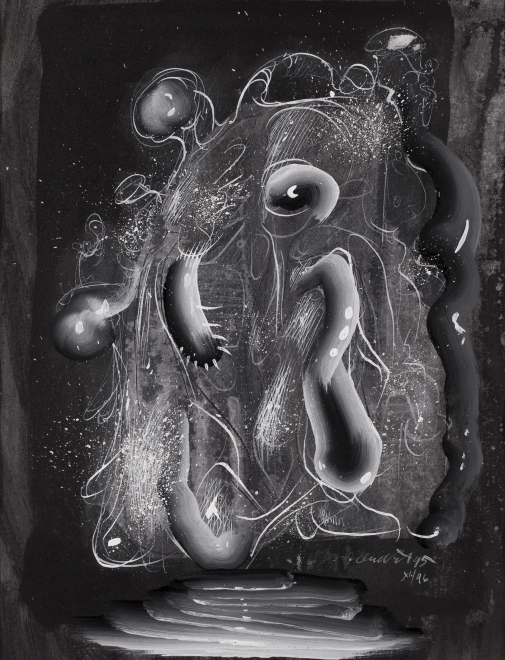 Marcin Zawicki (born 1985) – is a young, but not in any case, debuting artist. There are lots of exhibitions, important awards and interesting artworks characterised by the self-distance in his resume. He usually works in painting and print medium. The exhibition will present a small section of Zawicki ouevre including paintings from his two, expanded series: "The Fall" [Upadek] and "Ergot" [Sporysz] and also from the newest, still untitled project. From the very beginning Zawicki doesn't give titles to his works, nonetheless all paintings are finished, carefully considered and clear.
An artificial light, aggressive, contrasting colors, gloomy atmosphere of unreality and timelessness along with the method of working are the most characteristic features of all Zawicki's paintings.
The artist usually make some samples of the final composition using small models. They are created out of refuses that he reincarnates. First he juxtaposes elements taken out from their natural environment, makes photographs of created effects, and eventually transfers them on canvas. At this stage of the creative process the artist let the imagination run wild – he plays with the scale, adds some new elements, dismembers others, blends, adds colors, creates his own microcosmos in a micro and macro scale. And there's no room for an accidental solutions since the artist works very carefully, paying an exceptional attention to details.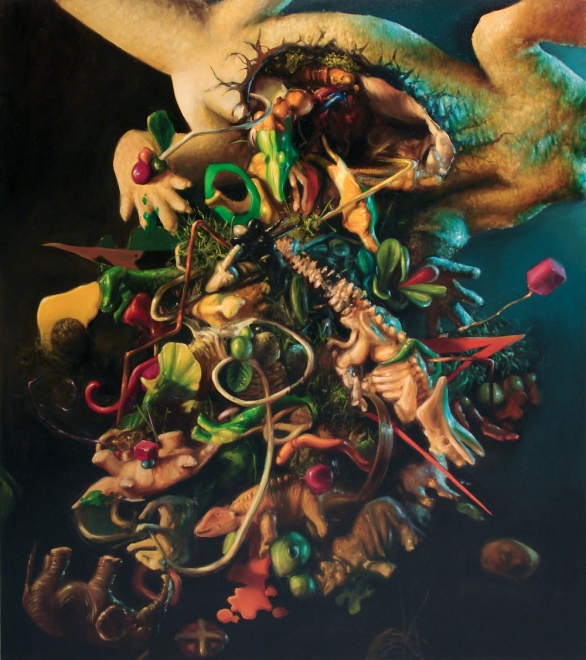 It is hard to indifferently pass by the art of both artists. They are pull viewers in and forced him or her to follow Ondráček's poetic and dynamic line or Zawicki's fantastic plants and awaken monsters. Both spaces in the gallery are separated with stairs and floor making a symbolic border between monochromatic and colors, poetry and mockery, complete seriousness and distance. It is not however a barrier that can not be overcome.

Photos from the opening:
https://www.facebook.com/pg/galeria.miejska/photos/?tab=album&album_id=876030305806717

Video from the opening: