---
Stanisław K. Dawski
/ 02.06.2017 - 17.06.2017
More than sixty artworks will appear on the monographic exhibition "Stanisław K. Dawski" organized Most of them are in the permanent collection of the District Museum in Sandomierz, and the Wrocław exhibition will be a unique occasion to see them for the first time after the artpieces were handed over to the Museum.

Paintings and prints included in the artshow will create an exceptional portrait of Dawski's oeuvre showing a range of media, styles and topics he focused on during four decades of his artistic activity.

http://www.youtube.com/embed/rgQyh6AaTLU

Despite his pioneering role he played on the ground of the local post-war art (he was an initiator of founding the academy museum and the Department of Industrial Design, but also on his invitation Xawery Dunikowski worked as a supervisor of the Sculpture Department between 1959-1964) Dawski is nowadays a bit forgotten figure and his oeuvre undervalued. In this case it makes an obvious context for the exhibition and the main starting point to recall Dawski's artistic attitude as well as his significant role in building post-war cultural milieu in Wroclaw.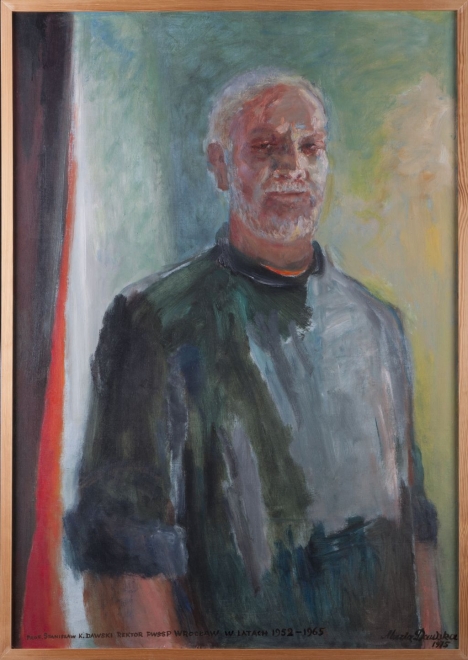 Maria Dawska , Prof. Stanisław K. DAWSKI, Rektor PWSSP we Wrocławiu w latach 1952 – 1965, olej na płótnie, 116 x 84 cm, 1975, Własność Akademia Sztuk Pięknych im E Gepperta we Wrocławiu


"I do not like and do not need it" – said Stanisław Dawski about retrospective art shows idea, on the occasion of his 80 birthdays. He added however: "that kind of exhibitions should be make by artists whose oeuvre is already closed". Dawski's attitude explains perhaps why the art show organized by the City Gallery in Wrocław is his second monographic presentation after almost 50 years in the city he was related with for almost 20 years of his artistic, pedagogical and social activity.

Until now Stanisław Dawski wakes extreme emotions and is remembered for some as an artist who constantly searched for new ways of expression and who as a pedagogue put partnership above didacticism. And who by others has been seen as a mysterious, introverted rector of the Wrocław Art College.
In her memories about Stanisław Dawski Irena Pijaczewska wrote that both his artistic and life attitude were characterised by openness and penetrative world observation. However speculations about his life before the Second World War caused the legend built around the artist presented him as an enigmatic and uncompromised person. Fortunately he wasn't devoid of a sense of humor, what can be proofed by fragments of his diary: "I will mention a few areas I have been examined from: exam for a carpentry journeyman, exam for a gardener and telegrapher, exam for a postal officer, school-leaving examination, blacksmith exam, a sealing and swimming exam. College entrance exam – first, second, third, etc., etc., Also for some of his works, humor was a priority element that released his art from pathos and make the discussion about taboos possible.

Curator: Mirosław Jasiński
Organizers: The City Gallery in Wrocław and District Museum in Sandomierz
Publishers of the exhibition catalogue: The City Gallery in Wrocław, Eugeniusz Geppert Academy of Fine Arts in Wrocław

Video from the opening:
http://www.youtube.com/embed/a0MczJtt0rA

Photos from the opening:
https://www.facebook.com/pg/galeria.miejska/photos/?tab=album&album_id=1360079407401802

Facebook event:
https://www.facebook.com/events/401389623594669/