---
Michał Hrisulidis/ Complex soul
/ 14.12.2018 - 19.02.2019
The first public display of Michał Hrisulidis' art took place in 1988 in Bez tytułu [Untitled] Gallery in Wrocław (currently the City Gallery). 30 years later the artists presents his artistic output once again in the very same place. It includes painting, drawings, as well as film and theatre scenography.

http://www.youtube.com/embed/690ET8ERCDE

Michał Hrisulidis, born in 1963, is a Wroclavian painter, drawer, graphic artist and a theatre and film stage designer. He has presented his art works at numerous group exhibitions and over 50 solo shows both in Poland and abroad. He produced more than 40 set designs for theatre plays, TV theatre shows, TV series and feature films, including Historia kina w Popielawach [The Story of Cinema in Popielawy] or Daleko od Okna [Keep Away From the Window] directed by Jan Jakub Kolski. At the 19th Polish Feature Film Festival in Gdynia the artist was awarded for co-creating the visual language of Cudowne Miejsce [Wonderful Place] film, while his set design for Keep Away From the Window film was recognised at the 25th Polish Feature Film Festival in Gdynia.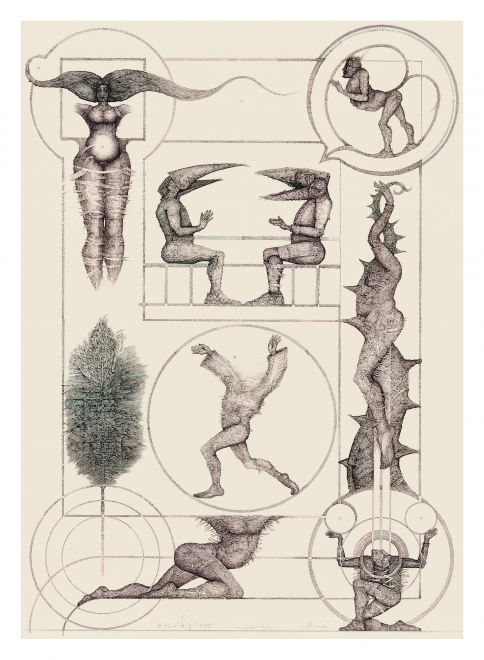 Michał Hrisulidis, MANSO, piórko-tusz, 2015 r


"Michał Hrisulidis/Complex soul" exhibition summarises the 30 years of the artist's artistic activity and simultaneously highlights multidimensionality of his work. This intricacy, in a way, is the essence of Hrisulidis's art, as in his creations painting interlaces with theatre while his set designs are strikingly painterly. This multifaceted nature of his art does not, however, refer only to the applied media and trespassing their boundaries. It involves also Hrisulidis's dual national identity, as – although he was brought up and lives in Poland – in his art he clearly emphasises his bonds with Greece and history and culture of Pontic Greeks. For this reason his art abounds in antique motives and mystique creatures. Still, Hrisulidis's art focuses mostly on humans and explores both human corporeity and spirituality. By juxtaposing nudity and costumes, dynamism and stillness, the popular and the sacred the artist highlights also – in accordance with the title of the exhibition – intricacy of human nature, its duality reflected among others in antonyms, such as good and evil or beauty and ugliness.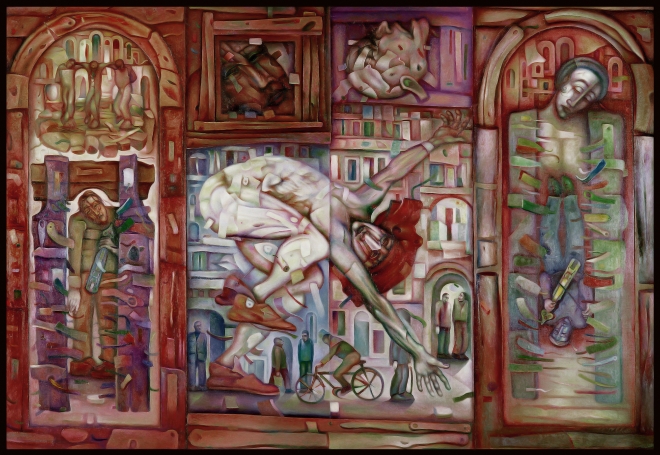 Michał Hrisulidis, POSTAWA, olej na płótnie, płyta pilśniowa,1998r


Mirosław Jasiński, the curator of the exhibition, writes about it: A Greek and a Pole, a human and an artist, a set designer and a painter, a drawer. In search of his identity Michał seemingly reaches an unobvious conclusion: identity, contrary to the meaning of its etymon, can also be complex. Reaching it is suspended among the impossible, doubt and achievement spiced with a pinch of Medean witchcraft; like Jason who procures the Golden Fleece, in theory a plain sheep fleece which is, however, golden. However that took place in Colchis – historically the territory of Pontus, today Crimea. This exhibition is a bit like that myth – materially concrete and yet imbued with imagination and perennial desires.

"Michał Hirisulidis / Complex soul" exhibition is open until the 19th January 2019.

Photos from the opening:
https://www.facebook.com/pg/galeria.miejska/photos/?tab=album&album_id=1980674665342270

Video from the opening:
http://www.youtube.com/embed/4otMEayEs6o